The Auto Care Association announced that its Legislative Summit will take place Sept. 18-19 at the Hyatt Regency Washington on Capitol Hill in conjunction with 2019 Auto Care Association Fall Leadership Days. Leadership Days is a three-day event for the association's top volunteers and engaged members to discuss industry issues and drive association initiatives. With over 400 attendees expected to attend Fall Leadership Days, many of whom are expected to participate in the Legislative Summit, the Auto Care Association will play host to the largest-ever contingency of auto care industry advocates who wish to make their voices heard on Capitol Hill.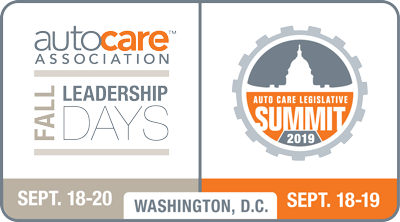 During the summit, Auto Care Association members from across the country will meet with their members of Congress to educate these key decision-makers on the independent aftermarket and its most critical policy priorities. Attendees are prepped with issue talking points, economic data and training on how to be an effective advocate. The event takes place over two days, with an issue briefing and reception on Wednesday, Sept. 18, followed by a full day of congressional meetings on Thursday, Sept. 19.
"The most important voice to lawmakers is not ours, it's the industry's," said Bill Hanvey, president and CEO, Auto Care Association. "We cannot be successful in the battle for access to vehicle data without these voices. We cannot be successful with tariffs, trade or regulations that may not only prove harmful to auto care businesses, but also to the motoring public, without these voices. Legislators respond to their constituents, and they want to hear the voices of people who work in and own these businesses. Investing a day and a half to simply have a conversation is the most effective way to ensure the future of our entire industry."
Auto Care Association volunteer leaders normally attending Fall Leadership Days should register at autocare.org/fallleadership and check the "Legislative Summit" box during registration to secure participation in the both 2019 Fall Leadership Days and Legislative Summit.
Non-Leadership Days attendees can register to make an impact at the Legislative Summit at: autocare.org/summit.